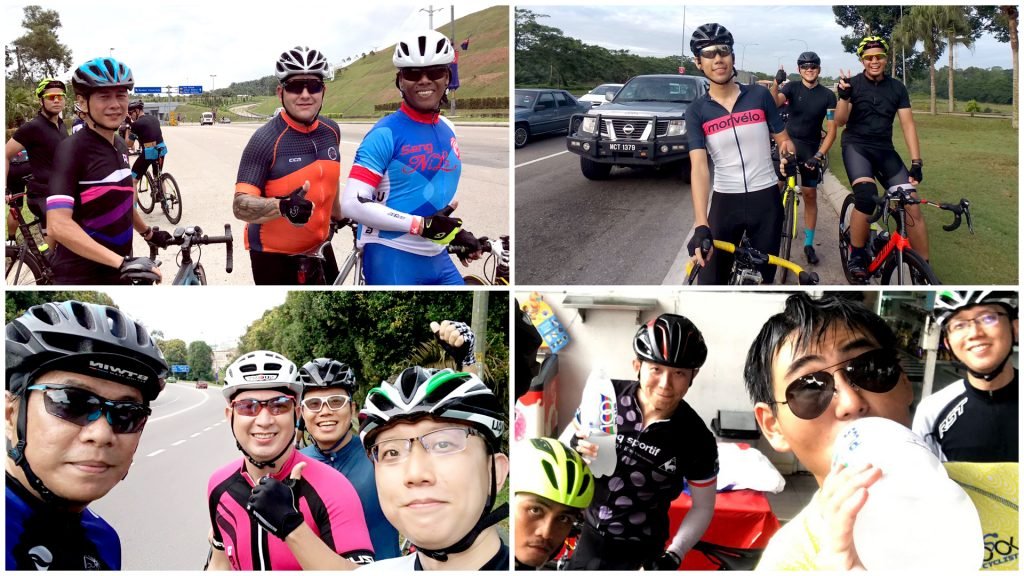 Having only cycled in Malacca and Bintan on top of Singapore, I am working towards cycling overseas more often and in more places. Last week, I joined an experienced and friendly group to cycle from Singapore to Kota Tinggi. It is located located around 42 kilometers north east of Johor Bahru which borders Singapore.
It was a fun ride. The route was well planned with a sufficient number of stops and through generally scenic locations (as scenic as Johor Bahru can get). The group rode well in a pack. Even though riders were dropped occasionally, the organisers always had someone on the lookout to keep the group together. Group morale was high throughout and riders were very helpful and cooperative. We encountered both rain and shine throughout the ride. The video below gives a taste on how the journey went.
Key points of the journey are as follows:
Immigration: We entered Malaysia via the Johor-Singapore causeway (Woodlands Checkpoint). I  had previously only taken private and public buses and a train to cross the checkpoint. Doing so on a bicycle was new to me. It was generally seamless, in fact it appeared even quicker than most other vehicles as the security procedures were more straightforward for bicycles. Basically, immigration procedures are done as if the cyclist is a motorcyclist. You take the motorcycle lanes, have your passport checked and stamped and then proceed to cross the causeway to do the same at the next checkpoint. There is no need to fully dismount the bike nor are there thorough searches. (You carry barely anything when cycling.) The downside is that the journey across the causeway has sudden steep gradients as it is a bridge. There is also a ridiculous number of speed bumps which make the ride uncomfortable. Lastly, the motorcycle lane is narrow and most motorcyclists are in a rush, so try to keep to the side and let them pass quickly.
Johor Bahru: Johor has wider roads than Singapore which means that cyclists enjoy more space on the road. We cycled on a Saturday morning/afternoon and the traffic density was low. The motorists were generally patient. We had a large group and at times had to make lane changes. Even when traffic density picked up, the motorists gamely gave way without showing frustration. The roads are gently rolling in nature which is noticeably different from the ultra flat Singapore. There were never portions of the journey that could be considered pure climbing. Gentle rolling roads are conducive and actually make the ride more enjoyable. The quality of road surfaces is significantly poorer than Singapore. Prepare for many mini bumps. There were many portions where I wished I had my Crux and its 38mm tires with me.  (I also missed disk brake braking when it began to rain.) Nonetheless, there were no major potholes or areas that can be deemed hazardous.
Kota Tinggi Waterfall: Though the name suggests a city on highland, the journey to the waterfall is largely flat. I really liked the forested areas which we cycled through. A resort has been built around the waterfall and it costs RM5 to enter with an additional RM1 for bringing in a bicycle. The waterfall is small and provides a constant mid-pressure rush of water. Most people like to stand under the falls and wad in the pool to cool down. It is slippery and you have to watch your step. One of our riders stepped on a pin. (Ouch!) There is also a man-made slide and a gentle man-made rapid to add to the ambiance. The water is very clear but it will become significantly muddied if it rains heavily as the waterfall will transport mud from above. There are simple snacks and drinks available for purchase near the waterfall. There was a sizable group of visitors on a Saturday morning but plenty of space around still to enjoy the waterfall.
It was a great experience overall and I hope to do it again. Many thanks to the organisers and fellow riders who made the journey fun and enjoyable. My next overseas ride will be in New Zealand and I am looking forward to it!