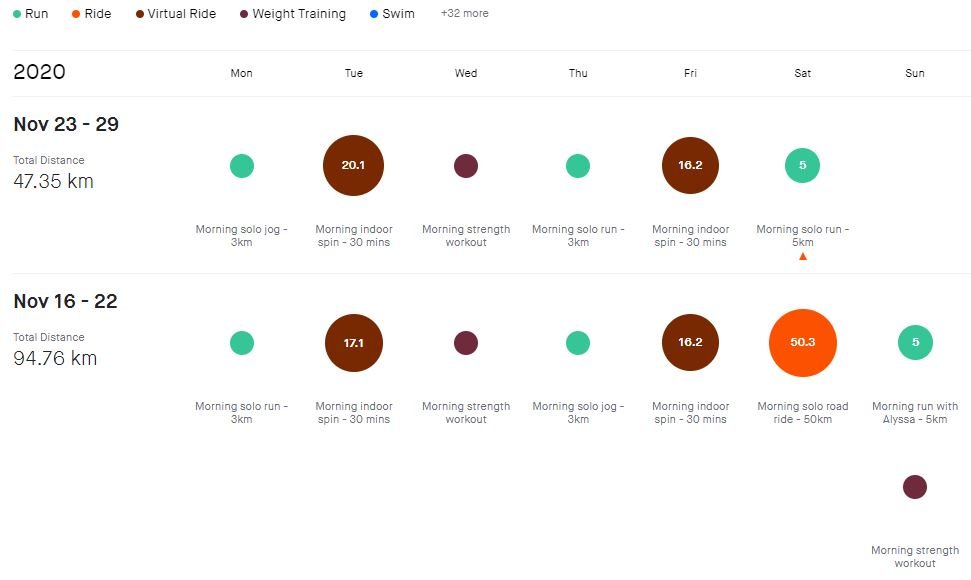 It has been a crazy few months at work. I took a new appointment and had a wider range of responsibilities. While I have not managed to blog, I have been able to continue my rides and runs. Here is how the past few months have gone.
Barely maintained my weekly ride and run goals. It has not been easy but I have managed to hit 100km and 4km for my rides and runs per week. It is not a big goal to start with but having only the weekend to bang this out after a truly draining weekday is tough. There were weeks were I struggled to meet the targets and weeks that I completely failed to, but overall my weekly averages met those targets.
Upgraded to the Garmin Fenix 6 Pro Solar. I intended to hold on to my well-worn Fenix 5 Plus. But the screen was accidentally scratched by my wife's diamond ring. (Sapphire glass stands no chance against diamond – one of the world's hardest materials.) Garmin wanted to charge S$240 for a replacement and I decided to get the latest Fenix on offer. I will put up a review of the Fenix 6 Pro Solar in the coming weeks.
Started on a new daily regime. One of the things my new watch highlighted was my lack of low aerobic activities. This was not a surprise. Given that I only had the weekend to finish my weekly activities, I was always trying to get them done as quickly as possible. To fix this, I decided to begin daily, low effort and brief workouts. I had thought of doing so in the evenings but due to my long work hours I took my wife's advice to get them done in the mornings. I run on Mondays and Thursdays, spin on Tuesdays and Fridays and do some weight training on Wednesdays. It has been working out so far. And it also makes it easier to meet my weekly goals and overall annual target. I am now on target to clear my annual target 3 weeks in advance. 🙂