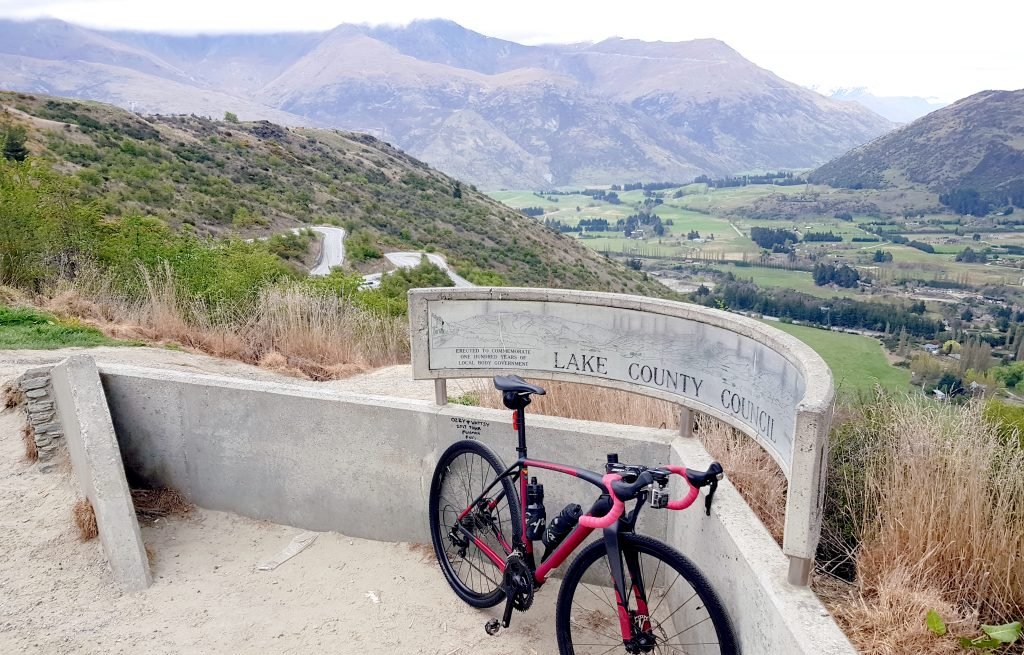 New Zealand's Queenstown is a scenic tourist destination known for outdoor activities such as sky diving, skiing, mountain biking… but not road cycling. Queenstown was the first leg of my 12 day journey to New Zealand with my fiancée which centred on our pre-wedding photo-shoot in Wanaka. When my fiancée had to miss the first two days due to work, the opportunity opened up for me to explore Queenstown by bike. I rode twice in Queenstown, the first towards Wanaka and the second towards Glenorchy. Here is how the experience was like:
Incredibly scenic. Queenstown is ridiculously scenic. Crystal clear lakes, vast green fields dotted with sheep and giant snow-capped mountains surround this tiny town. It is just like riding through a postcard. Coming from urban Singapore, I found the scenery breathtakingly beautiful. During the ride towards Glenorchy, I was often in a single lane road with the mountain 3m on my right and the lake about 15m to my left. To say that the rides were amazingly scenic is not an exaggeration. I had my concerns riding alone in a new country but that was quickly wiped away by the views. I have yet to ride in Europe but Queenstown has set a very high bar for what constitutes a scenic ride.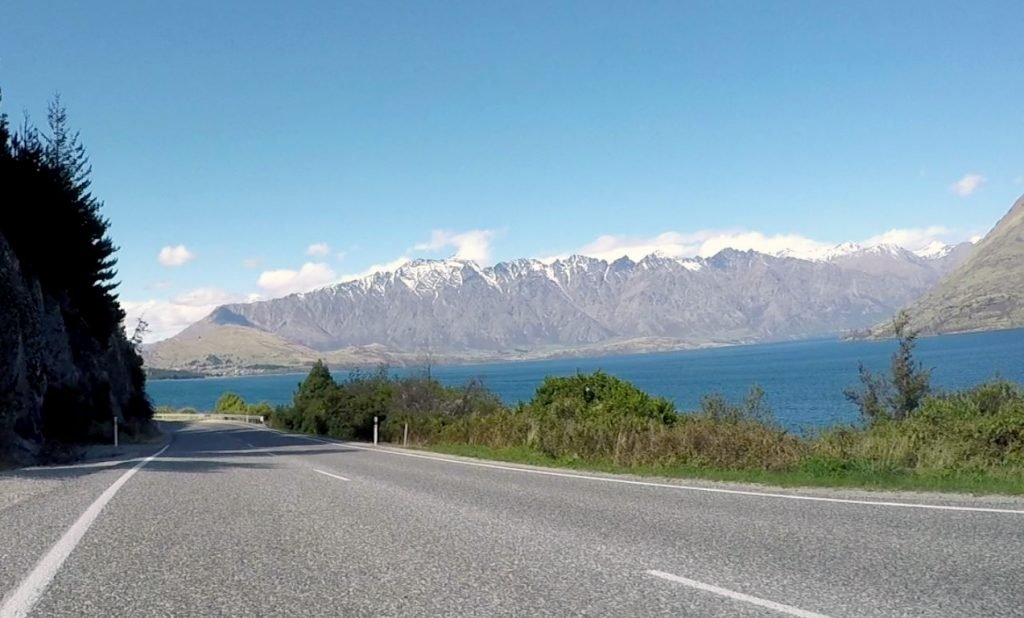 Climbs galore. As you might have guessed, given that Queenstown is set within mountains, there are essentially very few flat roads. Even within town, there are steep climbs at >25 degrees. The easiest parts are the rolling portions where you can use the quick descents to boost you up the oncoming steep but short ascents. But there are long climbs with varying gradients as well. My ride towards Wanaka featured an iconic climb with seven hair-pin bends. The ride towards Glenorchy had four Category 4 climbs. Whether this is good or bad depends on how much you love climbing. For me, Queenstown presented the most challenging climbs I have experienced so far. Coming from a very flat Singapore, this massive change took some time to adapt. I found my legs burning within the first 5km of each ride, but my strength and form gradually picked up after the first rest point. It did not help that I brought my off bike as well given that it was 2-3kg heavier than my main bike. Together with the additional clothing layers due to the cold weather and the supplies I brought along, I was easily carrying 4kg more than the usual weight at significantly tougher climbs. But the rest points and the absolutely lovely scenery helped. With great climbs came great descents. I played very safe and limited my speed to below 40kmph as this was my first time and there were numerous bends along the roads. It was great fun. Conquering the climbs felt great and gave me a good preview of what actual mountain climbing was like.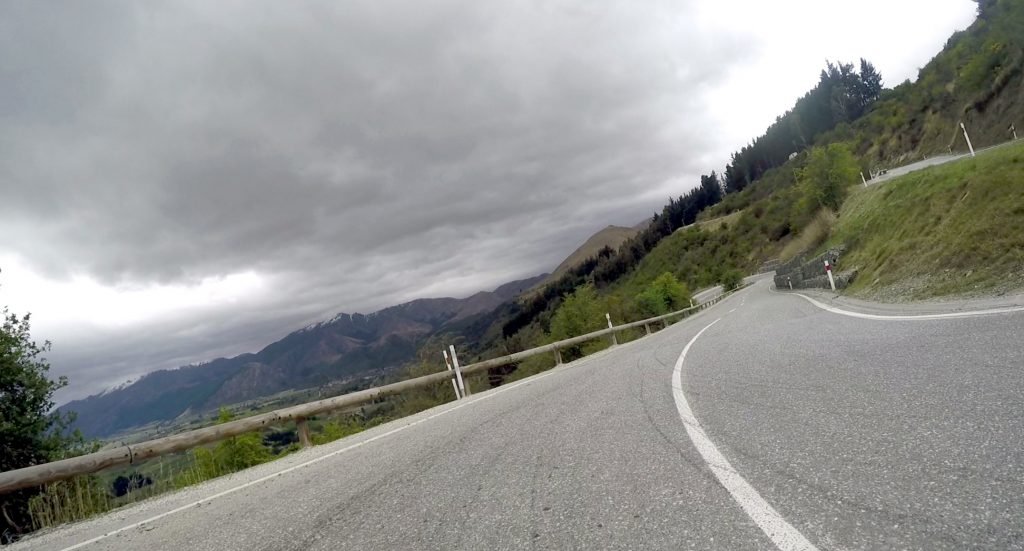 Bike friendly roads and drivers. Most roads in Queenstown and the surrounding area are single lane. Besides the rolling terrain, the roads also take numerous twists and turns as you are basically snaking around or through mountainous areas. Car speeds vary from 70kmph within Queenstown to 120kmph beyond the town. But the drivers appear patient and generally keep a good distance away when passing by. There are numerous 'Share the road' signages and the drivers do seem to follow that. There are also cycling lanes and good sized road shoulders within town. I generally felt safe mixing in traffic during my rides.
Great weather. This is subjective. Coming from hot and humid Singapore, a dry cool ride in 10-15 degrees Celsius is very welcome. It took multiple climbs before I sweated. I had to layer up as I was not suited to the sudden cool weather but I enjoyed riding through fresh spring weather. I will cover how I dealt with the cool weather in summer clothing at minimal cost in a later post.
Road cycling does not seem to be established. The bike shops in Queenstown do not loan road bikes (mountain bikes only) and support for road bikes is nearly non existent. This made me decide to bring my off bike over as I would have to otherwise loan a rental bike from another town in New Zealand and have it shipped here which would have been incredibly expensive for a rental bike. I will write about flying my bike in a separate post. Without strong support for road cycling, I had to pack everything I needed with me to ensure I was self sufficient. The other part of the downside was the lack of fellow road cyclists. Throughout my time here, I saw only two other road cyclists who were cycling on their own separately. On the other hand, I saw a number of mountain bikers travelling to trails both via car or by cycling by the side of the road. Group rides for road cyclists appear non existent here during this part of the year at least. I like cycling on my own but it would have helped to have group support especially in a new town and up the challenging climbs.
Few natural stops beyond towns. The distance from Queenstown to Glenorchy is around 40km and around 80km to Wanaka. It is not incredibly far but the climbs make the journey challenging. Make sure you are stocked up to deal with the varying weather conditions and the lack of food/drink stops. Two bidons, three bars and having three clothing layers for cold and rain was sufficient for me. I was also concerned that a major bike breakdown in the middle of the ride would be catastrophic as I was not sure if Queenstown taxis would travel far out to get me. Thankfully, my rides went well and I never had to find out but without group support, there was always a "what if" hanging over my mind.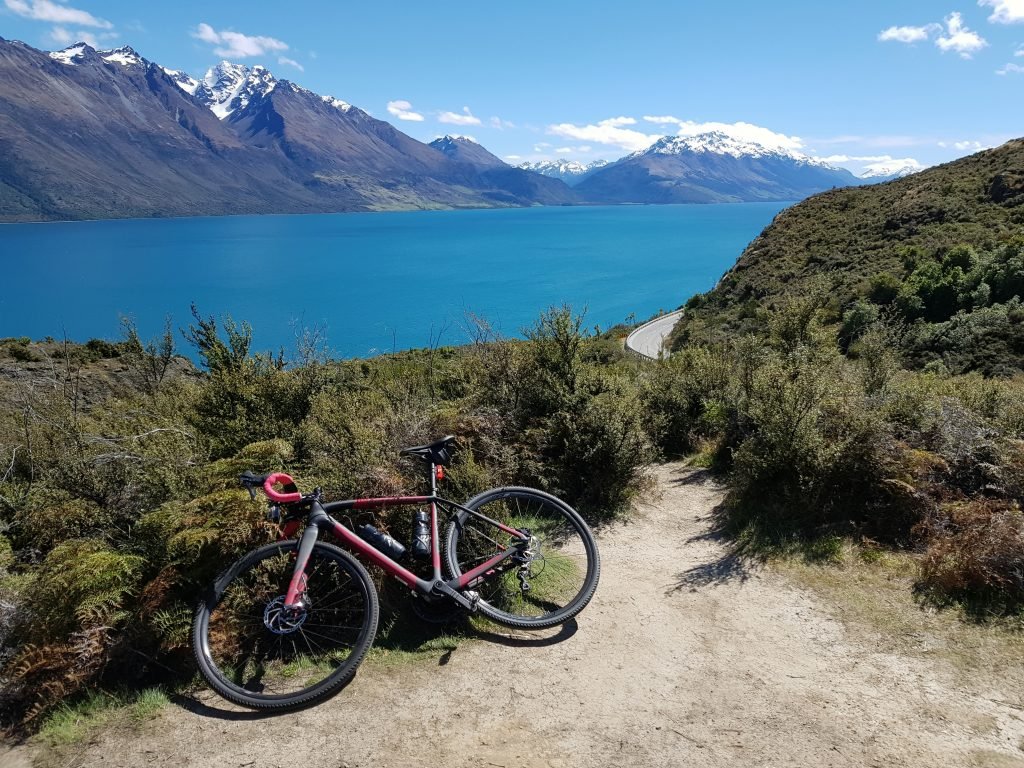 Road cycling in Queenstown is something I would recommend to any road cyclist. Riding through such beautiful scenery is not to be missed. The terrain poses good challenges that are not as tough as the climbs featured in France and Italy. It is a good introductory ride to hilly terrain. Be well prepared and even better, travel in a group. I had a blast!