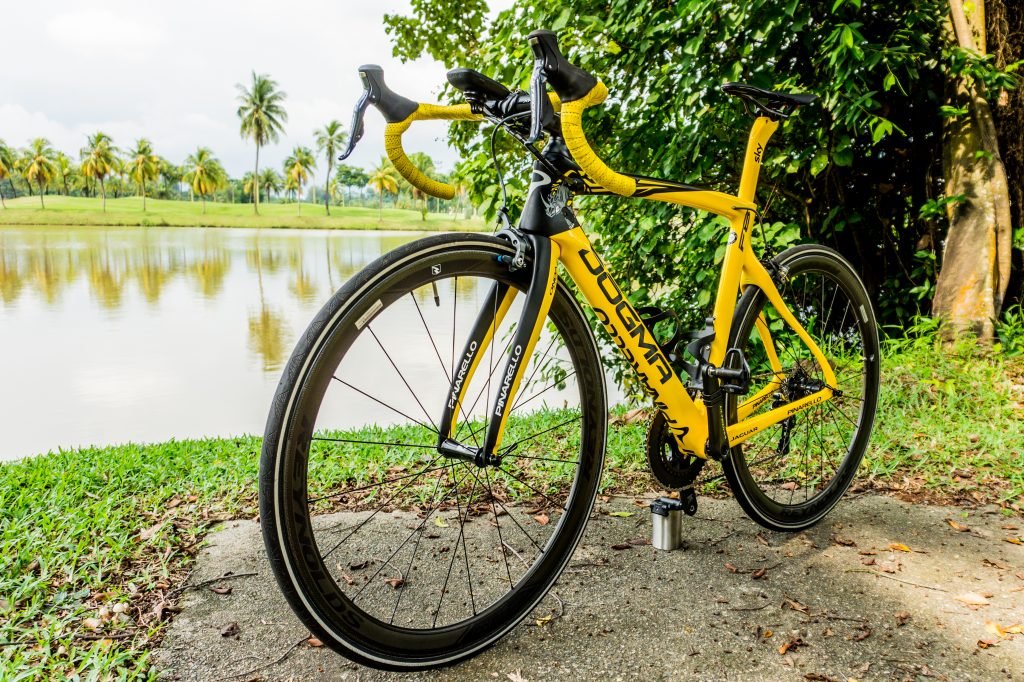 I have two bikes currently and the F8 is my main bike. I decided to dish out the cash for the F8 after realising that cycling was a passion and not a fad for me. The F8 is a wonderful ride. It is not especially light or aero but it mixes the two well. It performs excellently at moderate to high speeds. I am not sure if the "asymmetric" design works (it is probably just marketing mumbo jumbo) but this bike urges you to push on and makes maintaining or pushing speeds a breeze above 35km/h.
When I was shopping for an F8, what caught my eye was the paint job of this bike. It has the right tone of yellow (I do not like neon yellow) and the right mix of black and yellow. The Team Sky stickers are a bit of a turn off as I do not specially support them but the overall paint job was excellent. I am ok with the "Froomey" logo. Given pro cycling's terrible background with performance enhancing drugs, one can never be sure if any pro cyclist is clean. Froomey seems clean and an excellent professional but I am not taking any pro cycling role models to be safe. Given that this is a limited edition paint job and the subsequent designs for Pinarello's Tour De France winning bikes seem to be too yellow heavy, I am probably going to keep this bike for quite a while and not sell this frame specifically. This does not mean there is no N+1, it just means I'll probably not sell this frame even when I move on. There's also some sentimental factor at play as I made the most improvements on this bike. But that's a story for another day.
The specs are below. It is not light at all. My configuration with Ultegra and non weight-weenie equipment causes the F8 to tip the scales at 7.7kg. But weight isn't everything and this bike has been reliably cutting through wind at high speeds like a knife through butter. No complaints.
Frame: Carbon T1100 1K, ONDA F8, SOE Think2 asymmetric integral system, Italian BB, internal cable routing, chain keeper, Size 53
Fork: ONDA F8 full carbon
Wheels: Reynolds Assault SLG
Tires: Continental GP4000 SII 700x25c
Shifters: Shimano Ultegra DI2, 11 speed
Front derailleur: Shimano Ultegra DI2, braze-on
Rear derailleur: Shimano Ultegra DI2
Crank: Shimano Ultegra, 52/36 (mid-compact)
Cassette: Shimano Ultegra, 11-28, 11 speed
Chain: Shimano Ultegra
Saddle: Astute Skycarb VT, carbon rails
Seatpost: ONDA F8, internal housing for Shimano and Campagnolo batteries
Handlebar: MOST Jaguar XFC Aero 1K, 42cm, 31.6mm clamp area, carbon
Stem: MOST Tigerultra Aero 1K, 120mm, 82 degrees, carbon
Headset: Integrated, cartridge bearings, sealed
Brakeset: Shimano Ultegra
Pedals: Look Keo 2 Max with Specialized S-Works Sub6 Shoes
Lights: Moon Mask, Cateye Rapid X3
Devices: Wahoo Elemnt Bolt, Stages Ultegra 6800 (v.2), Garmin Speed Sensor
Enjoy the photos and click here to see the entire album.