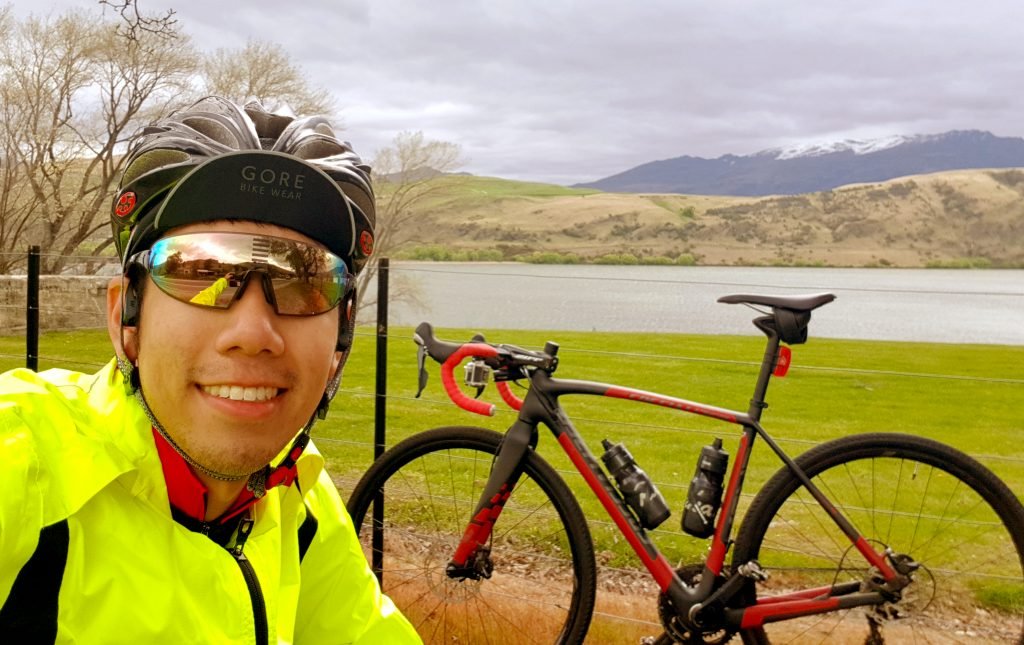 My recent rides in Queenstown, New Zealand were done in temperatures between 9-16 °C. Coming from tropical Singapore where temperatures are usually between 28-33 °C, I did not have the appropriate gear to handle New Zealand's cooler climate. However, I did not want to spend on a full set of cold weather cycling clothing. Here is how I managed to spend little while keeping warm in Queenstown:
Use wet weather gear for blocking wind. When I commuted to and from work for around two to three months in 2016, I bought a rain cap, rain jacket and long pants. These were waterproof. They were a nightmare to wear in Singapore because they were also close to windproof. But these worked a treat in Queenstown. I was unaffected by the cold strong winds. The downside is that the rain jacket and long pants are not aerodynamic. The jacket did catch a lot of wind and slowed me down. But I was kept warm and did not have to spend an extra cent. Worth the trade off.
Aluminium folio toe covers. I wore a thicker pair of socks (originally meant for trail running) to keep my feet warm. However, this was not sufficient. Taking a page out of GCN's hacks, I first wore my socks before wrapping my foot, especially the toes, in aluminum foil. Then, I gently slipped my foil wrapped socks/feet into the cycling shoes. It worked great. Yes, removing your feet from the shoes will break the foil and you will need to throw out the little bits and pieces of broken foil from your shoes. But S$3 foil is a better value proposition than S$45 show covers and it provided the same warmth.
Inner vest as base layer. As there is no need for base layers in Singapore, I did not want to purchase a base layer just for Queenstown's cold weather. Instead, I used a normal long sleeved inner vest as the base layer. Worked great.
Gloves. This was the only item I had to buy. I couldn't think of a hack to keep my hands warm. Keeping them warm was key especially since they will be catching plenty of wind on the handlebars. I have full fingered gloves but they were not suitable as they ventilate very well and are very thin. Hence, I bought cycling winter gloves from Queenstown for S$49 and they worked perfect. On the upside, these gloves can also be used for non cycling activities such as climbing and for general cold weather.
I spent a total of S$52 (S$3 for aluminium foil and S$49 for the gloves) to convert my summer clothes into cold weather ready clothes. The usual route would have been to buy a wool base layer, wool long sleeved jersey, leg warmers (or long bibs) and shoe covers. This would have cost close to S$350. Glad to have saved the cash and still enjoyed a sufficiently warm ride.