Almost exactly eight months after getting my first taste of climbing Wuling partially, I returned to Hualien in hope to complete the Taiwan KOM Challenge.  This would be my first full mountain climb and also my first race. Some had questioned my choice given that many pro cyclists have termed it the "hardest climb" they had faced. But I threw caution to the wind and decided to see how far I could go. In short, I survived to the finish and completed the challenge but only barely.  Read on for the full story.
Preparation
My preparation did not go as planned.
I did as much climbing as I could but Singapore is a really flat country. Even the uncountable loops of NTU, NUS, Mount Faber, etc would not in any shape or form bear resemblance to Wuling's mostly continuous 85km ascent.
I turned to Zwift, specifically its Alpe du Zwift (a virtual copy of the famed Alpe d'huez). It provided a simulated 1036m of climbing over around 13km. Steeper than Wuling but definitely nowhere as long. Still better than whatever the outdoors could offer in Singapore.
Halfway through, my Wahoo Kickr's belt snapped which required a week's wait for a belt replacement, meaning a week's worth of training lost.
Then I fell ill two weeks before the event with a combination of stomach and common flu. Another week and a half of training evaporated.
I also only managed to shave off 1.5kg of body weight as compared to my 4kg target.
To make up for shortcoming in my training, I ensured that logistical preparations were spot on.
Learning from my previous last minute horror of being unable to bring my F10, I had it prepared a week in advance. I even practiced re-assembly to ensure nothing would go wrong when setting up the bike in Taiwan. The bike was serviced with lightweight climbing wheels swapped in (review incoming).
Besides the bike, all accessories were prepared with redundancies built in. My wife gave me a Fenix 5 Plus (review incoming) which I swapped out my Forerunner 935 for. But I retained the 935 in my back pocket as my third bike computer. (The first being the Wahoo Elemnt Bolt and the second being the Fenix 5 Plus.)  My GoPro setup had 2x 128GB SD cards and a massive extended battery. I had a whole myriad of chargers, portable batteries, spare coin and button batteries… you get the idea.
Weather checks were done and a full set of rain gear was taken given some chance of rain during race day.
My diamox doses were scheduled on Google Reminder given my issue high altitude sickness.
The only thing that I decided not to prepare for was for a mid-race tubular flat. I brought a spare tyre but eventually decided not to bring it up the mountain as I had little practice fixing a tubular. In addition, my group's "team car" would not be able to follow us, so a spare wheel was not an option. It was a gamble based on the assumption that the road to Wuling was mostly smooth and clear of debris. The gamble paid off.
Prelude
The trip got off to a terrible start. The Scoot flight to Taipei was delayed by four hours. It was supposed to be a red-eye flight but I ended up sleeping on the carpeted floor in Changi Airport till 5am.
On the upside, the trip organiser Alvin from Singapore Cycling Tours (SCT) was excellent and the group was friendly even though most of us did not know each other prior to this trip.
A day before the race, we went for a group ride and you could sense the excitement building up. My wife took a jog to the start point to meet with the group and took photographs of the start point setup.
The afternoon was spent at the race organiser's hotel where they showed off their pro team and other notable "spotlight" riders. It was pretty surreal to watch pro cyclists and YouTube personalities like Emma Pooley in person. Some in the group went for selfies with her.
As usual, I stayed put at my seat and observed the media circus. To be honest it was a bit cringe. The race organisers and sponsors were completely milking the media opportunity to push their messages, products and services.
After one hour of ridiculous media shoots and  staged "interviews", the race brief was held. A UCI commissaire briefed participants, team car staff and media crew, focusing mostly on safety and areas of the route which were accident prone.
But one message rang loud and clear, participants had to clear the final check point within four hours. This meant one had to cover 90.7km laterally and 2364m vertically (ie 84% of the race laterally and 74% of the race vertically) within four hours to escape the broom wagon.
This was tall order for me given my lack of training and illness. I knew I had to go deep into the red to avoid the broom wagon. Escaping the broom wagon became the goal. In short, the goal was survival.
Oh and one more thing to highlight – I was somewhat surprised that all the participants were (or at least looked) extremely fit. While this was to be expected given that the Taiwan KOM Challenge is a very self selecting event, this was very unlike previous sportives I had attended which had participants of literally all shapes and sizes. Everyone at the Taiwan KOM Challenge was extremely lean and the differences were just in height. It was a bit daunting to be honest.
Race Day
I slept well the night before and got my nutrition right. It was a pretty calm early morning prep with everything going as clockwork. There was no pre-race anxiety and the only thing in my mind was to reach the 90.7km mark by 12pm. Anything less and I would not be able to clear my bucket list event.
The one mistake I made was not emptying out my bladder completely before the start. I was not feeling anything close to urgent but the need to pee started to grow exponentially during the race and I was happy to finally be able to relieve myself at the first checkpoint.
Easy Start
The race began at an easy pace (30-35kmph) with a 18km neutralised start on an almost completely flat sea level route. My guess is that the organisers (which included Taiwan's tourism board) wanted photos of a large peloton  riding across scenic parts of Hualien. There were multiple drones taking aerial shots and videos of this part of the ride.
And then the climb kicked in. Some participants were taken by surprise and I saw a rider hobble to the side to readjust their gearing after being unable to turn their cranks. I was prepared for this section having covered around 30% of the climb in February. Unlike my February experience, I was actually flying through the first 30%. I reached the point where I had stopped back then and asked myself why did it feel so much more difficult then. Could have been the weather, the bike or just the atmosphere. (It was raining, I was on my cross bike and I was the only rider in my February recce ride.)
I was making good time and decided to pace things out a bit to ensure I could survive up till the final 90.7km checkpoint. This meant refueling at each checkpoint which included my pee break at the first. Felt so much better physically and mentally after that.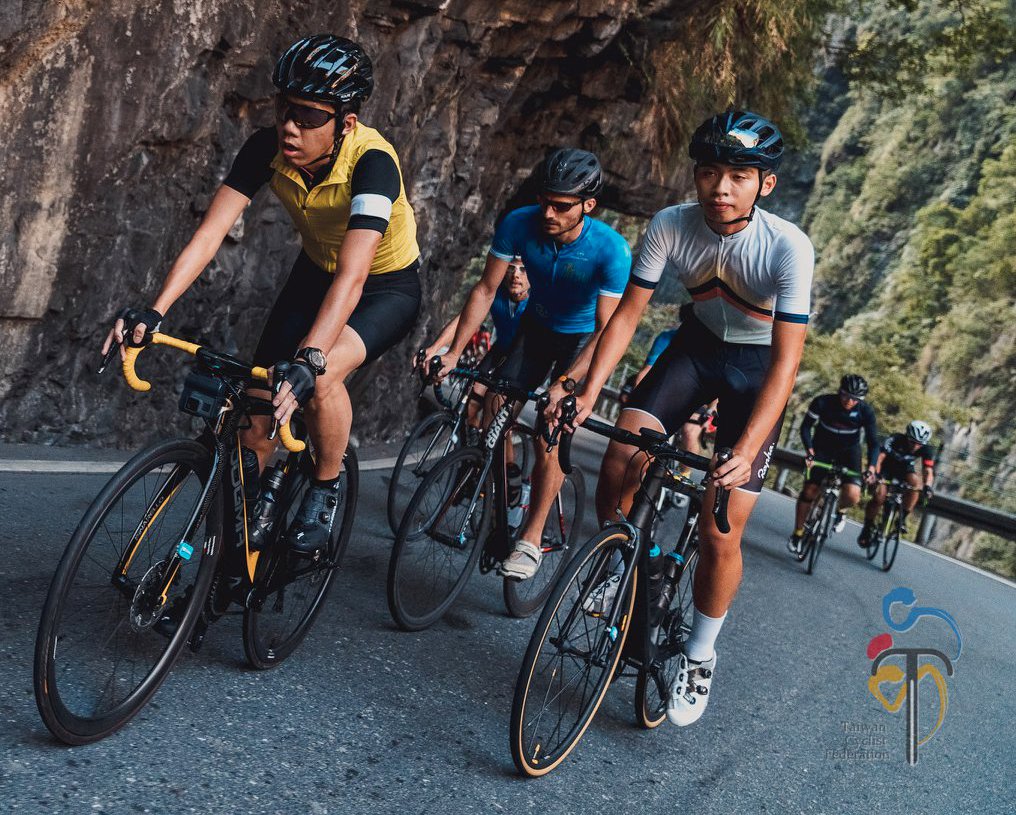 Biting In
Things began to turn sour at the 55km mark. The climb started getting steeper and speeds dropped at times to single digits. I was turning the cranks at around 65 rpm at the easiest gearing. But I was still able to put out around 190-210W consistently so that was not a concern. I knew that I would have to pay for this later and as I reached the 70km mark, I was clearly in the red.
It was at this point that rider commanderie kicked in and participants began encouraging each other. A large proportion of the 740+ participants were from Taiwan and they saw me (Chinese race) as someone who could speak Mandarin (unfortunately my Mandarin is  rubbish). One of them began tailing me and expressed his concerns with not being able to clear the checkpoint. Some of them were outright moaning in pain. I find Taiwanese people to be very expressive and extremely friendly but they were also very willing to express the pain they were going through as well. (I am more of a suffer in silence type.)
Shortened Descent and Crash Avoidance
I tried to pace out the amount of times I dipped into the red, balancing it out with the all important need to get past the final checkpoint by 12pm. The race map had indicated that there would be around 5km of descending before the final checkpoint. I had factored this in for my recovery before the infamous final 15km of very steep climbing.
Unfortunately, the descent was no where close to 5km. In fact, it was around 3km before I was pushing out the watts to climb again. My plan for the final 15km was in tatters but I kept focussed on on reaching the final checkpoint in time.
One thing to mention was a crash that took place right in front of me. The rider in front of me had entered a tunnel with a good pace only to slow down for no apparent reason (no change in gradient), begin wobbling and then falling to the side with his back slamming into the rocky tunnel wall. I managed to stop to help him up and divert the riders behind. He seemed to be fine (or just very determined) and hopped back on his bike.
Avoided Broom Wagon
I reached the checkpoint with 15 minutes to spare. The mid race re-optimisation plan to balance red zone and clearing the checkpoint worked out. I decided to take a five minute break. The job was done. I was not broomwagon-ed and I was sure I could tick the event off my bucket list.
I had already consumed two out of four of my bars and decided to go for sweet jelly that the organisers were handing out. I ate a ton of them. The sugar rush was much needed. I rolled across the timing mat and was faced with a massive uptick in gradient.
The Longest 15km of My Life
I was reduced to spinning the cranks at 40 rpm at my easiest gearing. That required 170W to maintain and my quads were close to cramping. I started to pull at the pedals with my hamstrings to the point my hamstrings felt like they were going to cramp too.
This segment was complete chaos. Riders were zig zagging wildly to cope with the steep gradients between 12-27%. Many were walking. Some boarded team vehicles. I saw some sitting down stretching their legs probably trying to recover from cramps. I saw some neo-pro riders in the same quandary, trying to recover and rejecting their team cars probably in bid to prove themselves.
I was not cramping but I was moving at snail's pace. I was paying for every match I burned to get to the checkpoint in time. When I hit the 27% gradient segment, I had to dismount and walk. I was spent. I needed around 230W to get past it and I could no longer put out more than 160W. As the gradient got less steep (around 10%) I hopped back on and pushed like I had never done before. But I had to dismount again as the gradients went closer to 15%.
This was a brand new personal low (or high depending on how you view it)  in my cycling pain curve. I had bonked in previous events (notably the NTU Bike Rally 2016) but at least in those cases the road was relatively flat and I could coast along. This was the first time I had to walk in order to continue.
What helped was having other riders around me. Bonds were quickly forged. The caucasians had picked up bits of Mandarin and were telling their Asian counterparts to "jia you". One of them had issues with their GPS and thought he still had 12km to go. He looked considerably relieved when I told him it was only 5km remaining.
It was also at this point that the cold began to bite. The race began at around 22 degrees Celsius at sea level but at 3000m (notwithstanding it was mid day), temperatures had fallen to around 12 degrees. I was feeling the chill especially with the wind and I consumed my third energy bar just so that I could keep warm.
My team car rolled up at this point with some of my broom wagon-ed group mates on board. They urged me to hop on with some commenting that I looked like I was experiencing hypothermia. But I was so close and I was never going to give up.
With 4km to go, a much needed descent of around 1.5km opened up. How refreshing it was. I gleefully sped down to gather as much momentum for the final bit (around 12%). I was at the 500m mark when an ambulance stopped smack in the middle and blocked the road. The riders had to stop. I thought I heard some Mandarin swear words being uttered. Race officials helped to deal with the ambulance, which was probably attending to a medical situation, before giving the riders a push off to continue to final few hundred meters of ascent. This was my first experience being given a push off and it was extremely helpful.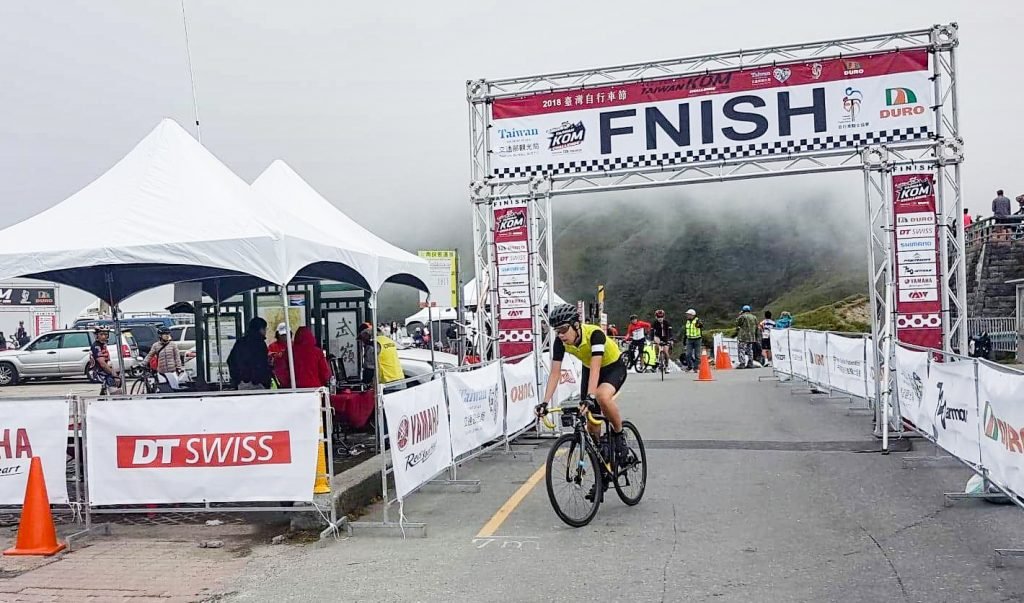 Mission Accomplished
After 105km of suffering, of which the last 15km were the worst in my four years of cycling, and 3275m of endless uphill roads, I rolled across the finish line to the welcome voice of my wife yelling at me to look at her camera. I could barely turn my head. I was emptied a few times over and numb from the cold.
The race officials handed out the finishers' medal and got us to the finishing stage for photos. The riders all looked extremely exhausted but relieved. There were congratulatory words and cheers being shared in Mandarin and English.
And with that I limped to the team car with my wife. Gratefully hopping into the warmth with the job done.
Side note: The race organiser later said that around 470+ riders completed the event which meant that more than a third (36%) of the participants did not.
What Went Right
I made the best of my preparations given the limitations I had which were mainly not enough time to train and not having the right setting to train in. I could not have asked myself for more. 

Being able to push out between 170-230W average for the first four hours was a new high. (My FTP is around 238W.)

Nutrition and refueling were spot on. I did not bonk or feel dehydrated.
Diamox worked. I was worried I would feel faint after the 2800m mark which was what happened at Mount Kinabalu but none of that occured.
No flats. Whew. Would have instantly ended my ride.
Climbing related gear. Mostly my climbing wheels. Having a 900+g wheelset was definitely a huge bonus.
This trip was an eye opener for my wife on cycling culture and I hope she will come out more often to cycle.
What Went Wrong
Lack of Z3 training. Being time limited, I focused on Z4 and above. This was one of the reasons why I was flying through the first 90km before imploding thereafter. I just did not have sufficient base training.
Gearing. At my low fitness level, a 52-36 crankset combined with a 11-30 cassette was not going to work. I had overestimated my ability to hang on in the final 15km. I probably would have benefited from a 50-34 crankset and possibly a 11-32 cassette.
Ability to climb out of the saddle. I am unable to climb out of the saddle for more than 15 seconds. Being able to do so could have given me the much needed boost in the final 15km.
What's Next
Training. I went into this event with a fitness level of around 35/100. The aim is to elevate it to above 60. Base training and core strength training will be the key additions. The formula of "any combination of 3 rides as long it adds up to 100km per week" is not going to cut it. I will have to go for 2-3 trainer sessions plus 1 long ride per week to ensure I balance intensity with base mileage. As for core strength training, it appears to be the main solution for climbing out of the saddle.
Another mountain! The climb up Wuling was painful but the views were majestic. I wished I could have stopped to take photos but I was too concerned about avoiding the broom wagon. My other bucket list mountains are all in Europe and am looking for another climb in Asia before heading to France/Italy/Spain. It is pretty hard to find one that equals Wuling but some in the group have suggested Chang Mai, Thailand. I am still thinking about it given my extremely busy work schedule next year.
Completing the Taiwan KOM Challenge has pushed me to set new goals and these have given me greater clarity in my training. For now, I will focus on improving my fitness level before the next trip.
Very grateful for my wife who has been extremely supportive. Also grateful to Alvin from Shangrila Cycling Tours (SCT) and the group for the positive trip experience. Special mention to the very hospitable Taiwanese race organisers and their very friendly and expressive riders. It was a truly memorable first mountain and race.