The Fumpa Pump is a battery powered tire inflator that can pump up to six tires per charge. It comes with a digital pressure gauge for accurate inflation. I bought it primarily for overseas trips as I did not want to lug my foot pump. I also wanted to avoid mini pumps which made pumping up tires tricky. After a year with it, the Fumpa has served well but is not without a few flaws.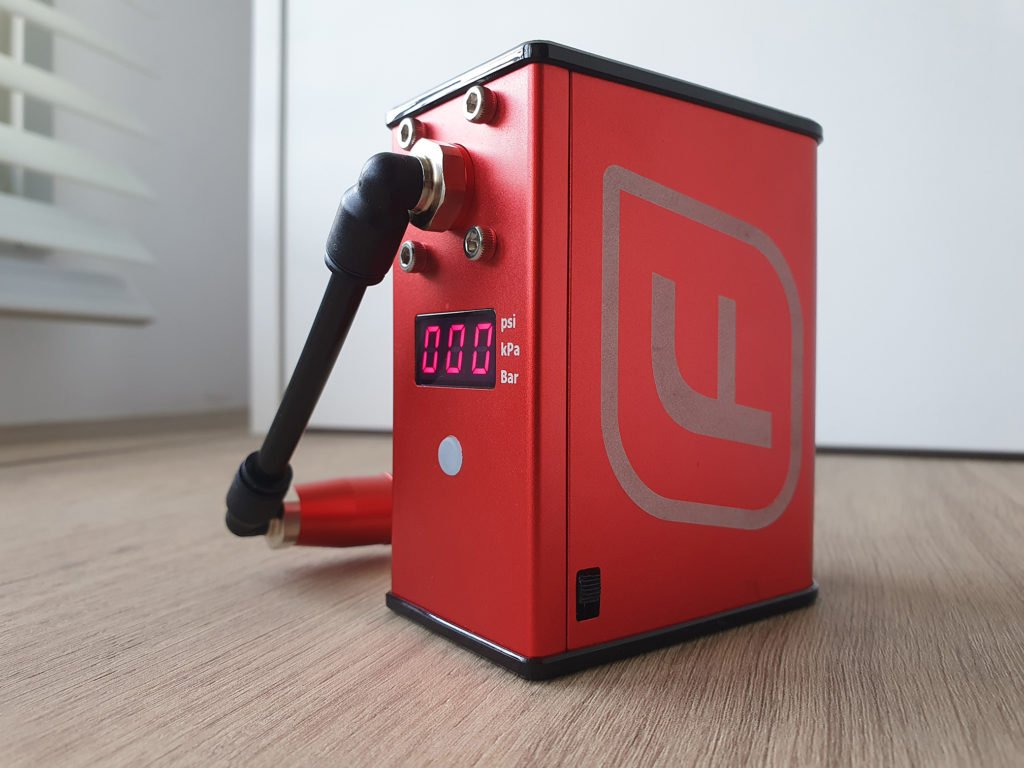 The Good
Easy to use. The Fumpa is easy to use. Switch it on, fit the nose over the valve and hold down the circular rubber button to inflate. Watch the pressure gauge and stop when there is sufficient pressure. Inflation is quick as well.
Accurate. The digital pressure gauge is accurate and easy to read. I crossed checked with other pumps. I liked how I did not have to squint at analogue gauges as with other pumps.
Portable. Measuring at 42mm x 73mm x 87mm, the Fumpa is small enough to fit in jersey pockets if you really have to. (Fumpa sells a small version call the miniFumpa if you intend to carry it on a ride.) I bring mine overseas and it was really simple to chuck it into the bike box and still have space for plenty of other equipment.
Well engineered. The Fumpa is built very ruggedly. The aluminum chassis is robust and can take a lot of reckless handling.
The Bad
Noisy. The Fumpa makes a lot of noise. It is noisier than a blender.  Avoid using it while others are asleep.
Gets hot fast. The Fumpa gets hot within a minute of use. By this time, you would probably be done inflating two tires, so it should not be an issue. But if you are inflating a few bikes, you will quickly and literally find the Fumpa to hot to handle by the fourth tire. The Fumpa also has a mechanism where it will shut down if it gets too hot. You will then have to wait for it to cool for around 3 minutes before using it. This can be a deal breaker for those who intend to regularly use this to inflate three to four bikes at one go.
Sometimes difficult to fit valves. The Fumpa grips most valves well but there times when it does not. You will then have to hold down the nose during inflation. This can be tricky when the pump heats up. Use a towel to avoid the heat while handling down the nose. Fumpa should introduce a locking mechanism (like those found in normal pumps) to overcome this issue.
Battery life. The Fumpa will run out of steam by the third bike/sixth tire. It does not affect my usage and probably most folks who only inflate one or two bikes. But if you have a huge group to manage, the Fumpa will be inadequate. The upside is that it charges fairly rapidly within one to two hours, meaning it will be ready for your next ride.
Expensive. The Fumpa Pump retails at around S$260 in Singapore. I bought mine from Cycle Project Store when there was a 15% discount. Still way more expensive than the usual floor pumps.
Overall, I would only recommend the Fumpa Pump if you need an accurate and easy to use pump away from the comfort of your home, and you do not need to pump up more than three bikes at a time. This narrows the use case quite considerably. It fit my use case (overseas rides for myself and my wife) perfectly but it may not for others (especially larger groups).