It has been a long break from writing mostly due to a new role at work. It is exciting stuff but setting it up has taken time away from being able to write. Nonetheless, I am glad to have kept up my workouts which can be tricky at times given the load.
It has also gotten a bit stale clocking mileage week-in and out, and ensuring some level of core strength was getting attention. I have over the past month decided to return to hill climbing, and this has re-invigorated me.
Peppys Road has been my go to. It provides a good mix of gradients starting much like a false flat before getting steeper at the end. It is not too challenging and is ideal for repeats. A 180 degree turn and two 90 degree turns also make descending more interesting. Since I started, I have climbed Peppys around 125 times. The repeats are therapeutic.
I have also started on Jurong Hill. It is much closer to home and is lesser known in general. This means nearly zero traffic. It is an easier climb in all aspects. Less steep and the descent is less technical. But it has a drawback. There is a parking gantry barrier mid climb which means slowing down significantly. Thankfully the gradient at that spot is flat. The view at the top is pretty good too.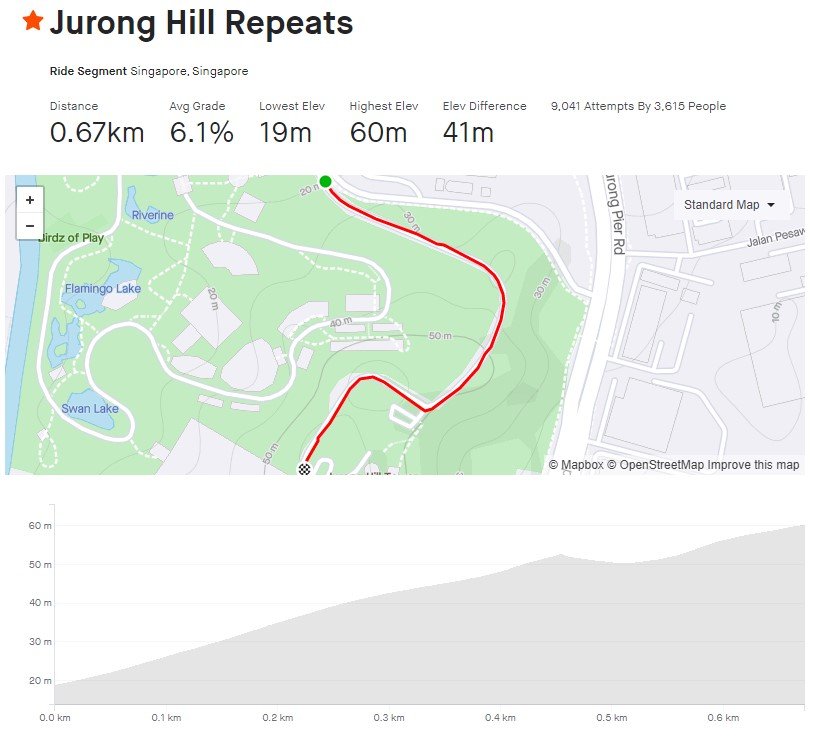 Returning to climbing has reminded me about how strangely I am attracted to ascending. The rides are much harder than rolling 100km week-in and out but the oscillating rhythm of ascents and descents make things more interesting. I have to spend more time riding but it is more rewarding and it has given my fitness a much needed boost.
Gear wise, I finally fit my climbing wheels, the Extralite CyberD-Max, with an 11-34 cassette. This entailed changing the long cage of my Dura Ace 9170 rear derailleur to Ultegra. It has been well worth the effort. 34 on the front derailleur and 34 on the rear really shows off the benefits of a 1:1 gear ratio. I should have done this prior to Wuling.
View this post on Instagram
Will be on the hunt for more climbs!