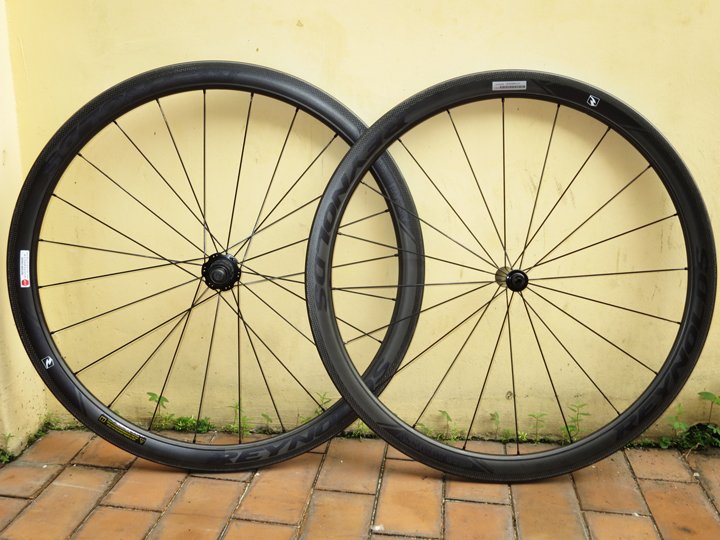 My first carbon wheel-set. In fact, the first wheel-set I purchased sans bike. The Assault SLG has been my go-to wheel-set since 2015 with over 11,000km under its belt. It has been paired with Continental GP4000S II clincher tires throughout. Here are my thoughts:
The Good
Excellent value for money. I bought it second hand at S$1300 from a seller who claimed that it had only done a 100km. I had no reason to doubt him, the wheel set looked and spun as good as new. It was a steal then and remains so even today. You will be hard pressed to find a good carbon wheel set from an established manufacturer at this price today.
Good all round performance. At 41mm, this wheel-set handles everything thrown at it. It climbs beautifully and maintains speed well on flats. The rim profile is a little dated compared to today's wider rims but the difference is not deal breaking. An all-rounder means that some sacrifices are made especially in terms of aerodynamics and this can be significant for a rather flat Singapore. But such sacrifices are worthwhile when climbs exceed 7%.
Rock solid build quality. I have ridden over uncountable portholes and at times it is safer to ride through them than around them depending on traffic conditions and how tightly the pack rides. The rims have held up beautifully. It took around 8,000km for them to go slightly out of true. No complaints, many compliments actually.
Brake pads last forever. I have not changed the provided cryo blue power brake pads since day 1 and a visual inspection shows that it has not worn by much. This is subjective to the rider. I avoid hammering my brakes too often, preferring to use air resistance early to slow me down. Still, roughly 20% wear after 11,000km is incredible.
The Bad
Slightly heavy for its depth. It is nearly 1.5kg and that puts the Assault SLG at the heavier end of the weight spectrum for 41mm depth rims. But given the build quality and price, this is a more than fair trade off.
Braking is average. Braking on dry roads is fine but not so in the wet. I have to pull quite hard on the brakes for quick stops in dry weather but this is near impossible in wet weather. I will not push past 35km/h on this wheel-set in the rain purely because I will not be able to stop quickly when needed. Ditto for descending steep gradients in wet weather.
Skewers are poor. They are lightweight but they are a pain to tighten. I guess it is good that skewers can be quickly and cheaply replaced.
I will buy this wheel-set again if I am looking for a set of great value for money all-round carbon clinchers. The retail price is around S$2,100 and that is much cheaper than comparable options from other major brands such as Zipp and Enve. A good pair of reliable rims over long distances requiring only minimal maintenance is hard to find, and the Assault SLG delivers at a low price.