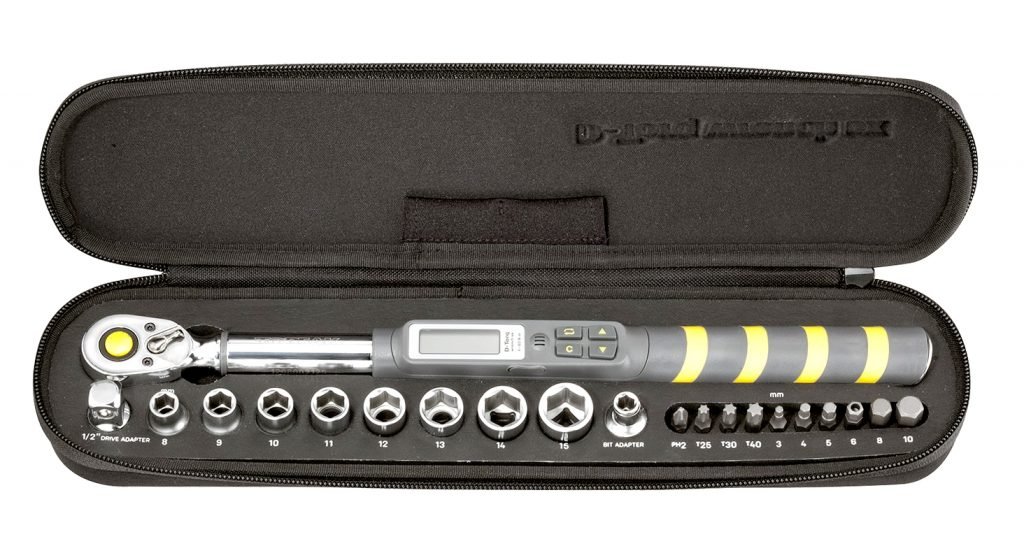 If you have a carbon frame, you will need a torque wrench. I pondered various torque wrench options for a while before settling on Topeak's D-Torq DX. Here is how it has fared:
Accurate. This is the most important part. I have crossed tested it with other manual wrenches and the D-Torq DX holds up well even after a few years. No factory calibration needed.
Does nearly everything. With a large torque range of 4-80 nm and a massive set of adapters, bits and sockets, you will be hard pressed for find areas where it is unable to perform. The only instance where I could not find the right bit was for my Dogma's seat post which used really tiny screws. This is a unique case though as most bikes do not use such parts.
Digital display is very useful. I like how quickly the digital readout updates such that you can tell how close you are to your present max torque. This is especially useful when you are slowly tightening a few bolts to ensure they line up before finishing the process.
Well executed. Topeak was thorough in its design of the product. The wrench is easy to hold, is of the right length for easy leverage, has a switch to easily change the torque direction, buttons are easy to press, the list goes on. Even the case is well designed and has battery holders to encourage you not to leave batteries in the wrench.
I recommend this torque wrench. It commands a premium price but is worth it. I bought it on Amazon for around S$270 more than two years. It can now be bought for around S$260 on Chain Reaction Cycles. You will not regret this purchase. I sure have not.