Today is the day! More than two years since I boarded a plane and my first flight to Europe with my bike. I've done what I can so here's hoping things go to plan:
Training. Ramped up on climbing in the final few weeks. Zwift was my go-to. Did the Four Horseman and Uber Pretzel routes. Both were challenging and were the longest I had spent on an indoor trainer (5 and 7+ hours respectively). 2000+ meters of elevation for each route both with four climbs including Alpe du Zwift. Interestingly Alpe du Zwift (Alpe d'Huez) is the final segment of both routes which made the routes more challenging. I hope this somewhat helps to simulate the multiple climbs I will be taking on in Italy. 8 continuous days of climbing will be a significant challenge.

Also tried Ven Top (Ventoux) for the first time. Even though it current stands as Zwift's highest single climb, it is easier than Alpe du Zwift.  Ven Top gets easier in the second half.
The hard weeks were worth it. I have not felt this fit for years. Took time this week to taper off and recover. Got on the trainer for just 10 minutes to test out my new cleats and get the legs going a little.
Packing. Quite a lot of work was done here over two weeks.
Sent my F10 Disk for servicing. The bike is paired with the Roval Alpinst CLX. I will be running 50-34 and a 11-34 after learning the hard way at Wuling.
Packing the bike took some work because I was out of practice. Note to self, the order is: Pedals, seat post, wheels, handlebar.
Got a lot of spares in – LR44s for the Vector 3, CR2032s for the speed sensor, brake pads, inner tubes, chain lube, etc.
Clothing required some thought too as temperatures will vary between 8-25 degree Celsius. Gillet, rain jacket, full and half fingered gloves, arm warmers, etc.
Settled on-bike nutrition. Got several Clif bars. It has been years since I bought these. Still taste delicious.
Electronics – DI2 charger, HRM charger, power bank and cables. I am going to try shoot some photos and videos too. So, my Sony A7iii and a GoPro are hopping along together with a couple of accessories to help offload footage into a portable 1TB SSD.
And oh, I plan to run at least twice in Italy – packed running gear.
Logistics was a lot of work. Thank goodness for the Buxumbox. Besides fitting a bike easily, it also holds a lot of the stuff I need to carry.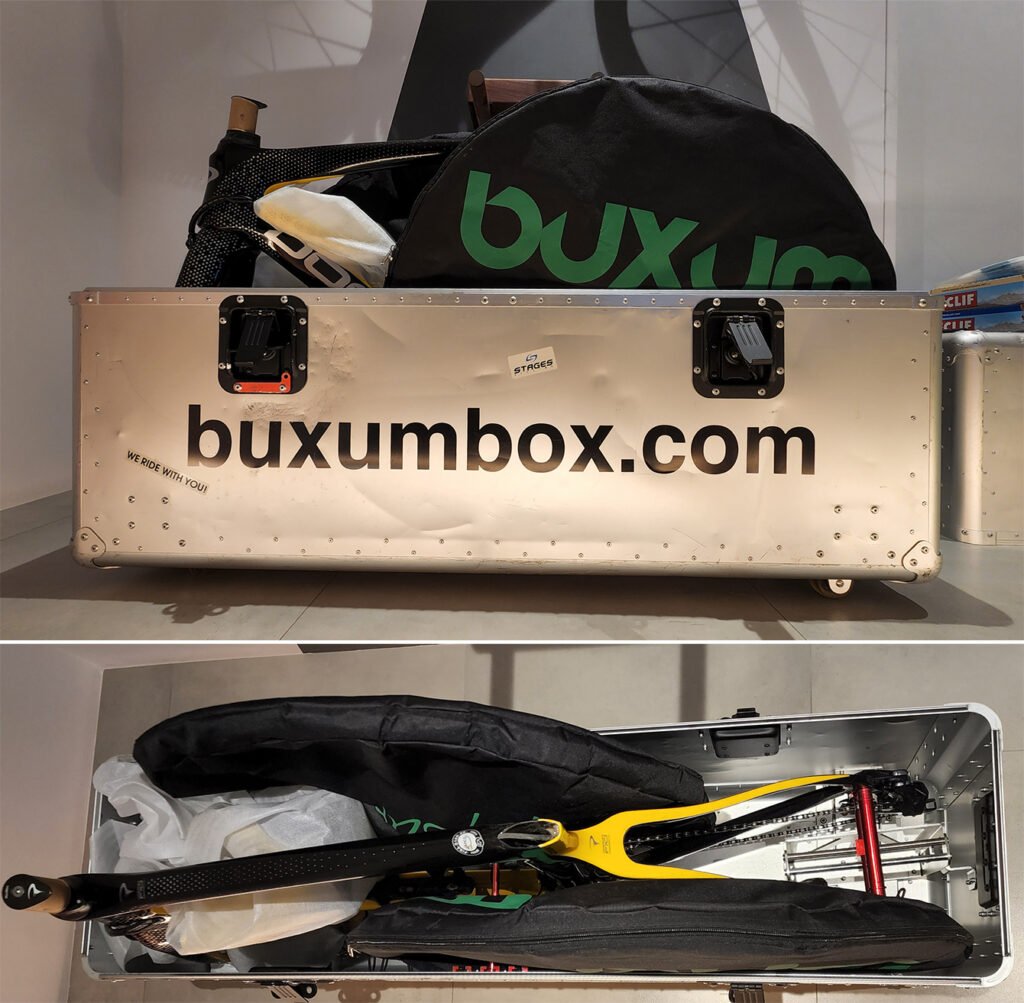 COVID regulations. Thankfully, nearly every restriction has been lifted. All I needed to do was get my vaccination certs from Notarise and a couple of FFP2 masks that Italy might not require soon. Still got COVID insurance to be safe.
3 bags packed and ready to fly tonight. Excited to be out of Singapore, keen to see Italy for the first time, raring to face the mountains and looking forward to a little chill time in Milan as well. Special thanks to my wife for being supportive in the lead up and during this trip. Will miss her and our little one for the coming two weeks. Till then!