Swapping from Ultegra 6870 to Dura Ace 9170 meant the purchase of a new power meter as my Stages Ultegra power meter would not match up with the new groupset. Running through a list of pedal and crank based power meters, I decided on the Garmin Vector 3 power meter ahead of Favero's Assioma, Pioneer's SGY-PM91 and Shimano's Dura Ace R9100-P. With over four months of regular usage, here is how the Vector 3 has performed so far:
The Good
Accurate and Consistent. Having compared the Vector 3 to the Stages Ultegra and the Wahoo Kickr, I can say that the numbers provided by the Vector 3 are within Garmin's 1% claimed variation. It is very accurate. More importantly, the Vector 3 performs consistently between rides. While it is always recommended to take around 30 seconds to calibrate before each ride, the numbers have remained consistent with other power meters even when the Vector 3 was not calibrated pre-ride. (The caveat is that I ride in Singapore where temperature variations are not significant.) Garmin delivers on the most important aspect of what a power meter should do. This is expected given that this is their third iteration.
Strong Connectivity. What good is an accurate and consistent power meter if it does not connect to your array of devices and more importantly, maintain a strong and consistent signal to them. The Stages Ultegra suffered from poor connectivity with numerous dropouts. Even the more recent versions do so. But the Vector 3 does not thankfully. Connection to various bike computers including the Wahoo Elemnt Bolt and my old Garmin Edge 810 together with my Garmin Forerunner 935 was perfect and drop-free.
Well Designed. This was what differentiated the Vector 3 from the Assioma. The Vector 3 has no pods hanging out and looks like an ordinary pedal. Garmin has really nailed the design for the Vector 3. Having all components hidden in a standard size Look pedal is something that other pedal based power meters do not do. In addition, the pedal is not some Look variant which makes getting replacement cleats tricky. It fits Look cleats perfectly. Oh and to top it off, installation is dead simple. Just screw on the pedal and gently tighten with a pedal wrench – just like how you would install any pedal.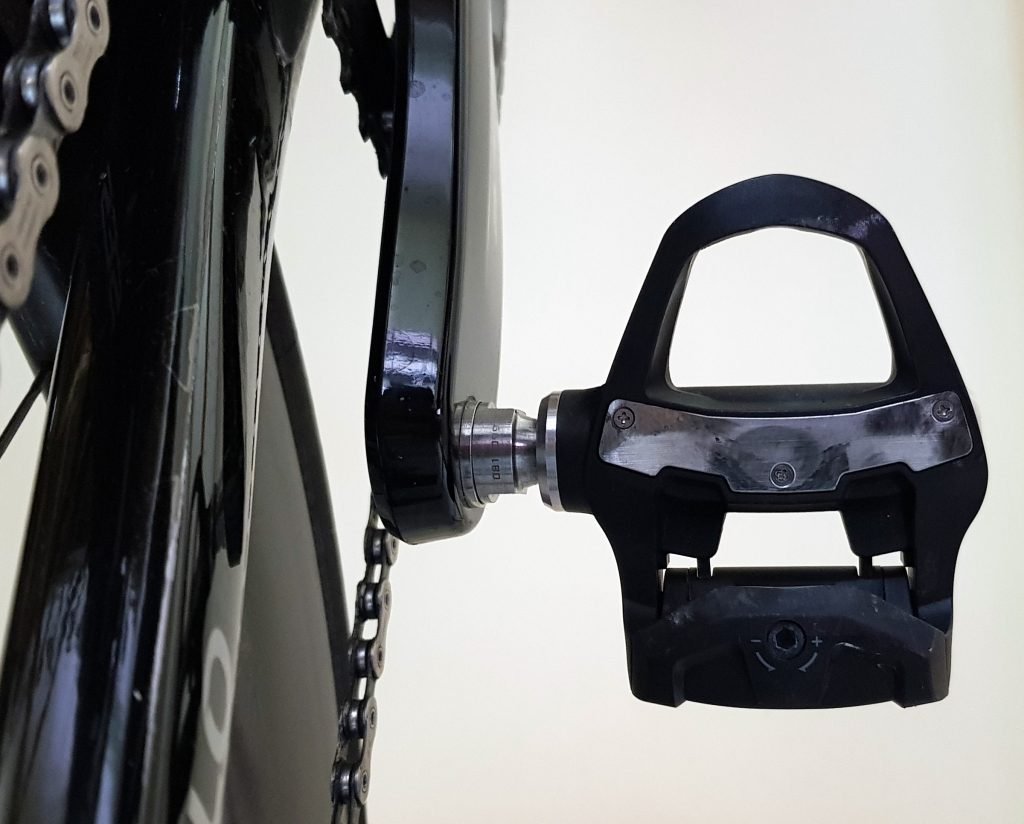 The Bad
Pedal Wrench Requirement. The downside to having all components hidden within the pedal body is that there is no space for an allen socket for tightening and loosening the pedal. The pedal is filled to the brim with components and a 15mm pedal wrench is required to remove the pedal. This makes it a little trickier to travel with this pedal since lugging a large pedal wrench adds weight to your luggage and small pedal wrenches are hard to come by. I am using the Topeak ALiEN II which has worked well so far.
Average Battery Life. Battery life is not bad but not great either. 120 hours is average and is 30 hours less than previous Vectors. It is also less than the Stages Ultegra. There is a related issue on whether to use LR44 or SR44 batteries. Garmin recommends LR44 due to power consistency and I have stuck to that. But there are good cases to make for choosing SR44 given its longer battery life. This is a needless distraction.
Pricing. It is no surprise that the Vector 3 is the most expensive pedal based power meter out there given how well designed it is. You pay for what you get.
Others
Dual vs Single Sided. Dual sided power measurement is neither new nor unique to the Vector 3 but was a welcome upgrade from my former single sided Stages Ultegra. Total power measurement is now a lot more accurate given that I have around 1-4% power difference between my left and right legs. I still think that a single-sided option is more than sufficient for activity to activity comparisons but if you want a full picture of your power development, get a dual-sided option.
Cycling Dynamics. Cycling Dynamics is something that I could not put in the "Good" or "Bad" baskets. It is subjective. There is no doubt that the additional information on standing power, seated power, how long I was standing vs sitting, together with torque effectiveness, pedal smoothness and left/right platform offset is generally useful. However, it requires a great deal of discipline to make changes which could cause unnecessary physiological changes. For example, better pedal smoothness does not always mean becoming faster. The debate on whether "pedalling in circles" is to be recommended continues. In addition, a perfect left/right platform offset may end up injuring you especially if you try making drastic changes to get to the "optimum value". I have no reasons to doubt that the numbers are accurate but deciding what to do with them is not straightforward. The value of having such additional data to me is mostly for tracking significant changes in trends which could indicate an onset of tiredness or injury.
Overall, the Vector 3 has worked perfectly for me. Given Garmin's less-than-stellar track record, I would caution that the usual "your mileage may vary" caveat would more readily apply.  That said, I have not heard of complaints from other Vector 3 owners which means that Garmin probably nailed the production of the Vector 3 well.
The Vector 3 was released mid last year but only started becoming available in Singapore in December 2017. I bought the first batch that came in which meant a near zero possibility of discounts. The Vector 3 cost S$1,499.00 and was purchased from Bikes n Bites. It should get cheaper since it is a nearing a year since its paper release.