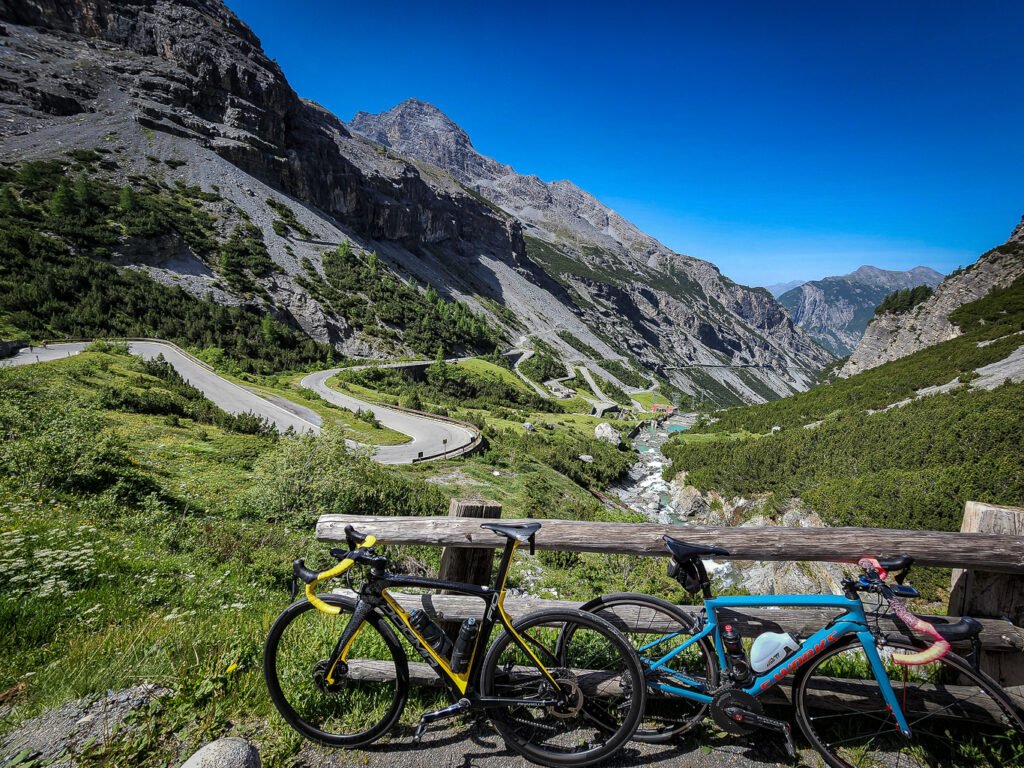 This was my first multiday cycling trip and it lived up to two years worth of expectations. Eight days of cycling in the Italian alps is a dream come true for any climber. I enjoyed it thoroughly and am considering doing it again.
I will break the trip into two posts – the first will cover four climbs clustered around Bormio, the most iconic being Passo Stelvio. The second will cover the various passes in the Dolomites.
Here is the first set of climbs. This post will be a much longer read than the usual snippets on this blog. Take a peak at the 3+ minute summary video below if you do not have the time.
Day 1 – Lake Cancano
Flight
The flight out of Singapore was close to midnight. It was important to sleep because the first climb of the trip kicked off on day one. I managed to get some rest though it was challenging to sleep with a mask on as per flight requirements.
The flight is 12 hours long and with Italy 6 hours behind Singapore, the group landed in Milan at around 6am.
We met our Singapore and Italian guides at Malpensa and were transferred to Bormio – a 3-4 hour drive, where I enjoyed the scenery and also took some short naps.
Accommodation
The hotel, Alpen, was really great. Terrific location and views, a homely and warm feel, and of course, awesome rooms. Perfect start to a cycling holiday.

I can't emphasise how important good accommodation is for me. A home away from home is priceless.

Bikes were built up in an open space outside the hotel. The weather was great at around 22-25 degrees Celsius in the morning. We also had a really good (and entertaining) mechanic on hand to help us.
Lunch swiftly followed and we had about an hour's rest before the "warm up" climb.
Ride
I was expecting this to be easy – 21km in total, a climb of around 8km, 600m of climbing and  an average gradient of 7.2%. I was wrong.
For context, Singapore is a small, coastal island state and there are no real climbs. The highest "climb" is a hill known as Mount Faber at 106m. The group and myself were going to have to swim in a significantly different pond for the next 8 days.
We kicked off the warm up with probably the toughest segment first – a 10-15% gradient in the first kilometer. I almost immediately jumped into zone 4. Not great physically to go from Z1 to 4 in seconds.
Also, not great mentally to be hanging on in the first kilometer of a warm up ride. My mind was going places. I started doubting if I could even handle the next day.
But it got better. After the punishing first kilometer, the road got gentler and a lot more scenic. Multiple hairpins followed. The ride had 28 hairpins in total. Most of them clustered quite closely together.
The views were great. There's something about looking down at hairpins with a mountainous backdrop that is simply awe-inspiring. And of course, the main attraction was Lake Cancano. We were told that the lake was not as full as previous years due to the lower quantity of snow this year, but it was a rewarding peak to take a break and snap many photos.
And downhill we went! I captured all descents in this trip as they are more interesting than watching me eke out the ascents. The best parts of the descents are in the videos. The summary video is at the top of this page with some of the descents captured. PM me if you want the links to the full descents.
Post Ride
Recover. Recover. Recover. I went straight into the shower, did laundry and cleaned up. I like how balconies are a key fixture of any Italian home and the hotel's balcony was perfect for hanging out the laundry.
Then, I laid flat in bed. This is my usual routine if I need to do back to back activities. Lay in bed until I absolutely have to move. But I did not have much time to do so because dinner was awaiting.
Did a few stretches especially the quads, hamstrings, glutes and lower back.
Dinner took close to three hours because it was a 4-course meal – I was only expecting 2 courses. And of course, everyone was excited and a good number had begun the continuous wine segment of the tour.
Photos
Day 2 – Stelvio
Pre Ride
I did not have much of a clue about Stelvio. I knew it was said to be epic. I have heard of it many times in the Giro but everything in the Italian alps looked epic. Nonetheless, the guides were raving about it. I was going to find out why.
I was mentally unprepared and I think that worked out for me because I was just going to take one pedal stroke at a time and revel in the scenery.
It was a Saturday and we started early because we were expecting the route to be busy – cyclists, motorcyclists and drivers would fill the iconic pass.
Quick breakfast and off we went.
Ride
A brief 6km ride to the base and we reached the base of Stelvio Pass – a 19km climb with around 1430m of climbing and an average gradient of 7.4%.
I was fully committed to riding conservatively. I was more concerned about being able to climb for 8 days straight as compared to Stelvio itself. Sure, none of the individual climbs could compare with the strain of Wuling Pass but climbing back to back for 8 days was a different challenge.  I was not going to blow up and miss any day.
The first 8km was very manageable. A slow paced ascent through the lush greenery. I used this segment to find my climbing forever pace. Roughly 130-160w at a heart rate of 150-160bpm.
Then, an unkind segment began with momentary gradients of 10-12%. I regret not being good out of the saddle because that would have certainly helped. Dragged myself through and was thankful for the 50-34 chainrings and 11-34 cassette. A lesson learnt from Wuling.
A well-timed break came after with sweeping views of the first 10km of climbing. I could now understand why the guides were raving about it. The views were significantly better than Day 1. A winding road carving through the mountains with a waterfall rushing down the side. Wow.
Some hairpins followed before a plateau came after 12km of climbing. The plateau was not really flat but after getting used to 7-8%, a gradient of 4% flat relatively easy. The views here were not particularly great. A simple road cutting through a grassy valley. I started noticing that a fly was hitching a ride on my handlebar for 3-4km. Kept me company for a bit. Up ahead, one could make out the top of Stelvio.
The final segment to the top was about 5km at a gradient of around 8%. More punishing than before but I was riding at a reserved pace and was focused on taking in the surroundings. There were much tougher parts in this segment. Some spikes to 12% and even a very short spike of 16%. But getting close to the top was encouragement in itself.
The surroundings reminded me of the scenes I saw on Giro broadcasts. Being there was different. The broadcasts focus on the riders. For me, it was the transition into a more icy and rocky landscape, moving from greens to whites that captured my thoughts.
I reached the top. And the views were a reward in itself. It only hit me a while later that I had completed a very iconic climb. Riding in without expectations and with my eyes transfixed on the scenic journey made this climb much easier than it was. Garmin and Strava both marked this climb as the hardest day of the 8 days. But it didn't feel that way.
The Stelvio is a dreamy climb and I want to do it again. The descent was breathtaking. The same wonderful scenery without requiring effort this time.
Post Ride
We drove to the town for dinner. Everyone was in a celebratory mood. It's funny how post ride adrenaline works.
It was around that time that I started noticing the fatigue. The group decided to take the next day easy. We were supposed to climb Stelvio again from the "usual Giro route" – a steep, more challenging but less scenic side. It was an easy vote to skip the climb because all of us had crested Stelvio.
Some of us, including me, were also becoming a bit worried about the day after – Mortirolo. A climb that I had not heard of but the gradients looked brutal. An easy day before Mortirolo would be great.
With a rest day ahead, dinner felt even more celebratory.
Day 3 – Umbrail; a brief crossing into Switzerland
Pre Ride
I was going to take this day real easy. Most of it was a descent on Umbrail Pass into Switzerland.
Easy easy easy day – so much so that I did not bother wearing a jersey. I wore a t-shirt over my bib shorts.
Got a jacket and neck scarf on since I would be going into a descent cold and would probably get even colder.
We drove up to the top of Umbrail Pass and took photos at the Italian-Swiss border.
Ride
What. A. Wonderful. Descent! 15km of freewheeling with an average gradient of -7%.
Total distance was 37+km but it felt like nothing at all. It was a real recovery day. I took time on the descent to spin the legs.
It felt really great. Views were scenic and it was a different kind of scenic. I was not expecting Switzerland to be noticeably different from Italy right at the border but the greenery (a lot more pine trees) and the architecture in the Swiss towns were very different. I will consider cycling in Switzerland more extensively one day. The alps is truly a scenic place.
We had a snack, rode for a short bit and then took the van up Stelvio. The transfer up looked brutal and we were all glad we took the day off. There were many breaks to take photos and our mechanic even stopped to help a cyclist who had a flat.
I would like to visit this climb another time and give it a try but my fitness levels need to be way better.
We had lunch on top of Stelvio before continuing in the van back to our hotel.
Recovery days are wonderful especially when coupled with views like these.
Post Ride
We returned to the town, took a little tour around the place and had dinner.
The fearmongering of Mortirolo hit full steam. We were told how previous groups had trouble finishing it. How walking was normal. How continuous 11-12% gradients with spikes of up to 18% were insane.
I was so convinced that I would be walking segments of it that I actually purchased cleat covers. The memory of walking up the last kilometers of Wuling flooded back.
Ah heck, I'll just try tomorrow and see how things go. I'll walk the length of it if needed. That was how the night ended.
Photos
Day 4 – Mortirolo
Pre Ride
D-day. The mighty Mortirolo. The climb Lance Armstrong called one of the toughest he faced.
Cleat covers in my jersey pocket and we were off. I didn't enjoy breakfast that much that day though the croissants were excellent as usual.
I was sad to leave Alpen. It was really nice.
Ride
We started the day with a mostly downhill segment to reach the base of Mortirolo. 27km ride at around -2.2% gradient. We opted for this against a van transfer so that we had some warm up time especially after barely pedaling the day before.
It was a good choice. Not only did it offer a warm up, it calmed nerves, took minds off the upcoming climb because it was a pretty scenic gentle descent. At this point, I was starting to take the scenery for granted. It is hard not to do so after Lake Cancano, Stelvio and Umbrail.
Sprits were good. We stopped for a snack and landed at the base of Mortirolo.
It actually looked a bit like the Rifle Range road area in Singapore. It was forest-y, very well shaded but of course cooler in temperature and significantly less humid.
I went even more conservative than before. Mortirolo is a shorter climb than the previous days. Around 11km but with over 1100m of climbing, the gradients were frightful. 11-12% average with the max gradient estimated to be 18%. Ouch.
We went in expecting to be stunned by the gradient. We were not. In fact, the first 2km was manageable at 6-7%. Wasn't so bad after all. The group chatted and took things easy.
The next 3km was tougher at 8%. Still within the range of previous days. Chatter went away and I was just focusing on keeping each pedal stroke smooth. Keep within Z2 power and heart rate. The forever pace. Maybe I could avoid walking.
An easy segment followed. 4% for about a kilometer. Hey this wasn't that bad after all.
The climb really kicked in thereafter. 9-11% became the norm at the 5km mark. I started counting down the kilometers to the top. 15% spikes came in fairly frequently, I saw a 18% and then decided not to look my Wahoo. I just looked ahead and focused on getting each pedal stroke through.
My power did spike into the low 200s range at times but I was not too concerned. This was within FTP and I was reaching the top distance wise.
With Mortirolo covered in fairly dense greenery (relatively as compared to the exposed Stelvio), there was almost no way to see the top. This helped with the approach of taking one step at a time.
I stopped at the final km to get some water. I was told I close to completion and that the toughest parts were over. They were. Near the top, the gradient went back down to 8%. This was a welcome change after 11-12%.
Then, I saw the peak. Mortirolo was over. It wasn't that bad and I did not have to walk! The group made it through and were very visibly relieved. Most, including me, had expected worse.
The descent was not very eventful. A peaceful descent between trees and we stopped at our transitionary hotel.
Post Ride
We settled into our rooms after lunch. I did not particularly like this hotel. It was well kept and clean but it felt kind of empty and hollow, a far cry from the warm, cosy ambience of Alpen. But it was for just 1 night and the location was perfect between Mortirolo and the next day's climb – Gavia.
Showered, skipped laundry as we had to move the next day.
Went to town for dinner. It was a very nice town as well. Somewhat similar to Bormio but I thought the backdrop was more diverse. There were cable cars for skiers too.
Had a good rest even though the hotel was less than ideal. Didn't think much about Gavia after all Mortirolo was the climb to be feared. How wrong I was.
Photos
Day 5 – Gavia
Pre Ride
I was glad to get going. Gavia didn't really feature on my mind. I was looking forward to the Dolomites.
Two riders including myself decided against a van transfer to the base of Gavia, and opted for a 14km gentle ascent at around 2%. We started off 45 mins earlier than the group.
Ride
It was a nice journey to Gavia. We took some bike paths and had to overcome a sharp short climb but it was worth it. We then started on Gavia and soon joined up with the rest.
The climb was around 16km with an ascent of around 1132m and an average gradient of 7.9%. Well within the parameters of Stelvio and Mortirolo. Should be ok. Or so I thought.
Gavia started off like Mortirolo. Neither gentle nor steep. The first 4km was around 6-7%. No real hairpins just a continuous winding road. It was well shaded. It was at this point that I realised I preferred more exposed climbs because I wanted to see the panoramic views.
The hairpins came soon after. The ensuing 5km of 7.3% had around 10 hair pins. This was where I started to experience the toughest day of the 8 day ride.
Something within me just gave way. There could have been a few reasons. The road was getting real bumpy. And there were road works to meander past. At one point I had to dismount and carry my bike past a work area. It was a bit dicey going on cleats and squeezing past a digger and the edge of the road. The workmen helped but the obstruction broke my flow which was especially crucial as the previous days of fatigue started biting hard.
My pedal strokes became more laboured. I was having trouble staying motivated. The road ahead seem endless. It was a pity that I started focusing a lot on the road (partly due to the poor road condition) and not the increasingly beautiful scenery. The route had transited out of the shady greens and into an exposed path through the mountains. After a few kilometers of suffering mentally, I stopped.
I took in the views. Propped my bike at a bench and just focused on getting mentally refreshed. Maybe I will not continue, I thought. But I'll enjoy the views. Gavia was way more scenic than Mortirolo.
A few members from the group soon joined in and while they were not aware of my mentally exhausted state, their presence was gave me a boost. Sometimes, it can be tough feeling all alone in long winding climbs. I asked how long more and was told it was nearly at the end. Maybe my calculations were off. I was closer to the end than I thought. This spurred me and saved my day.
After words of encouragement came the cold tunnel. It felt fairly long (though under a kilometer), was very dark and cold. I heard some swearing and complaints but did not have the energy to join in. I just wanted to get out of the tunnel.
Once out of the tunnel, things got a lot better. Bright, back to beautiful scenery and more importantly, I could see the summit. There was a beautiful lake which I stopped by to snap a picture. I also welcomed the dip in gradient to 5-6% and crested Gavia shortly after. Whew!
Looking back, Gavia wasn't physically tough but it was still my toughest day on the trip. Physical fatigue from 5 days of continuous riding, and mental fatigue from a long ride up poor tarmac.
I went straight for a hot cup of chocolate before gathering with the group and descending.
It was a terrible descent due to the bumpy roads. I actually got a bad headache due to the continuous bumps.
I think this ride would have gone a lot better if the roads were better maintained. It is a pity because the scenery was great. I could only enjoy it after looking back at the photos but had no appetite to do so live. I'll remember to swap to 28mm tires the next time I visit Gavia.
Post Ride
We got into the van to transfer to the Dolomites. It was a long transfer and I really wanted to get out of my cycling attire and have a bath. But that had to wait and the anticipation of the Dolomites kept me going.
We had lunch and stopped for wine tasting. It was a good scenic drive. Everyone took the chance to nod off.
And then we reached Canazei. What a welcome sight!
Photos
Hope you enjoyed the first part! I'll continue on the Dolomites in next week's post.
An early shoutout to the group which made the trip a really memorable one. Laughter, encouragement and support pushed me through. Many thanks to Alvin from Shangrila Cycling Tours (SCT), John-Lee Augustyn and Nikolas from Italy Bike Tours (IBT) for putting this trip together.
Till next week!