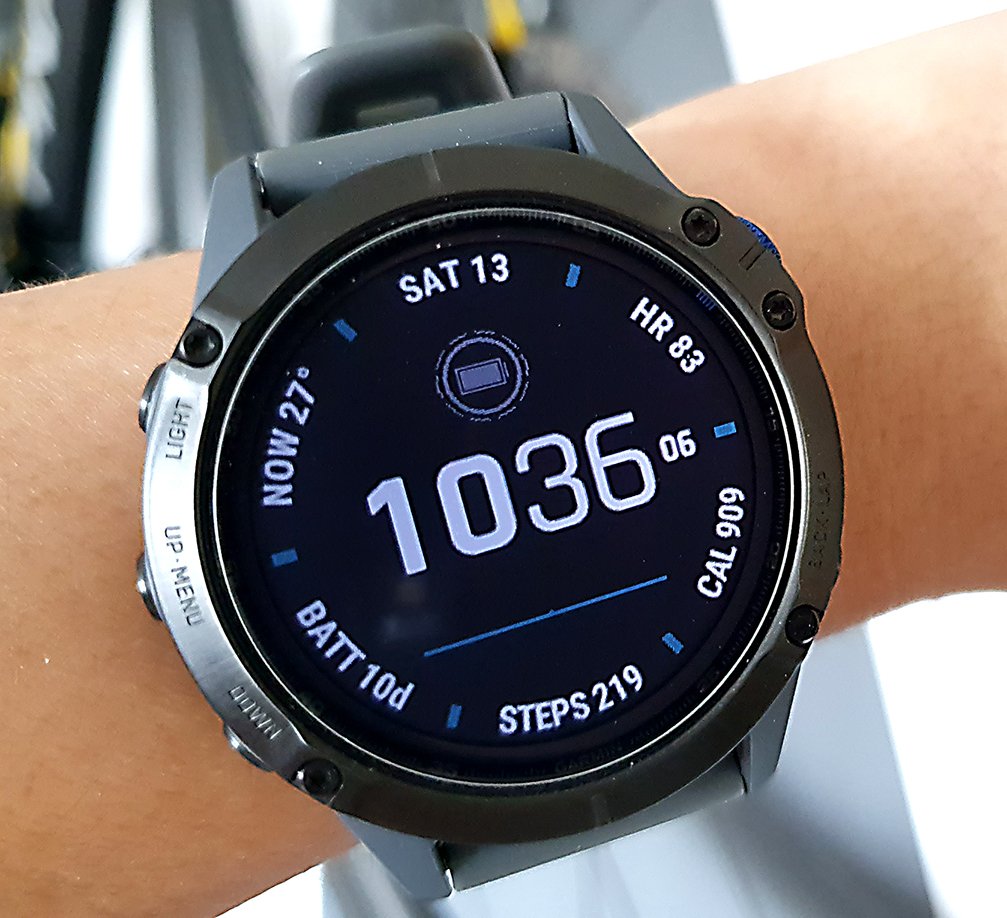 I did not plan on purchasing the Fenix 6 series. My 5 Plus was working great until its sapphire glass surface met my wife's diamond ring. Nothing stands up to diamond unfortunately. Garmin was going to charge around S$240 to replace the glass (my guess is they would replace the entire watch), and it was not worth the repair. I could not stand living with the scratch, so I decided to get the Fenix 6 Pro Solar. Here is how it has performed so far.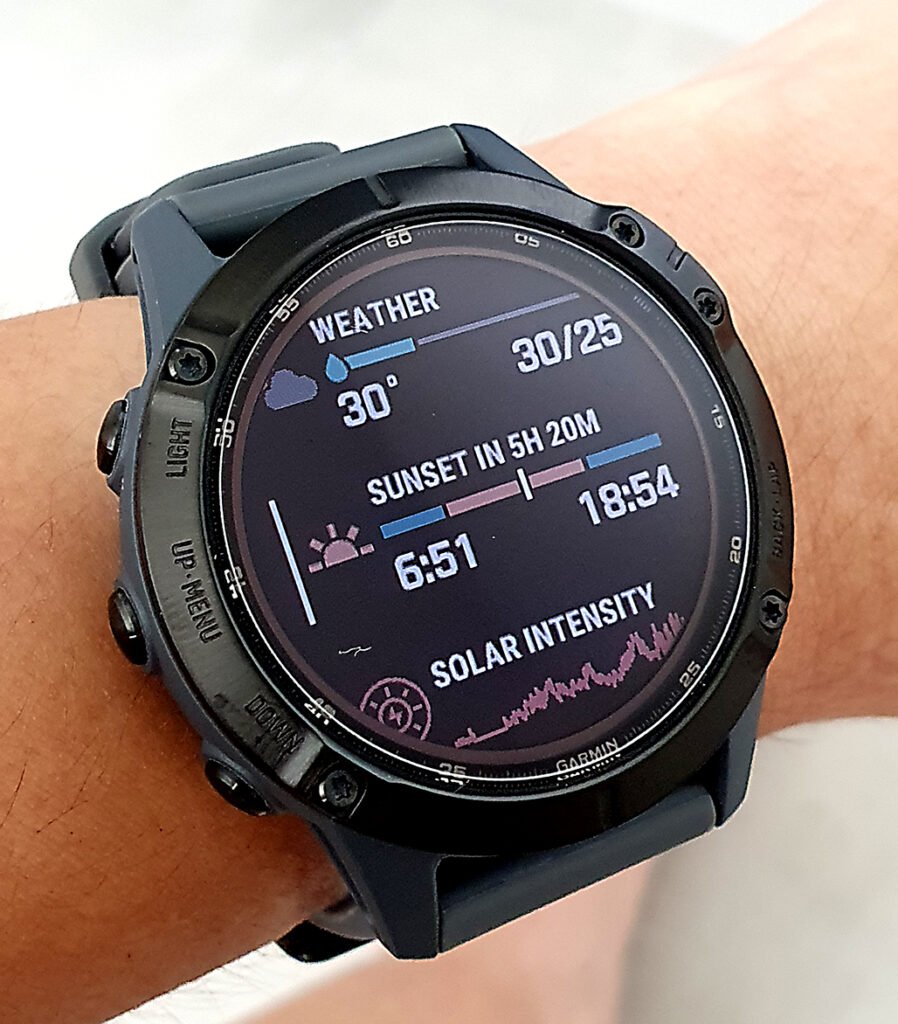 The Good
Features. Like the 5 Plus during its generation, the 6 Pro Solar packs the most features at this price range. The 6 Pro Solar does almost any sport and does it well. I use it for indoor and outdoor cycling and running, and strength workouts – a tiny subset of what this watch can do. It does music and NFC payments well too. The notable additional features to my 5 Plus were Pulse Ox and Solar.  Pulse Ox has been interesting and useful for health monitoring. Solar would be covered below (uh oh).
Software Polish. Everything the 5 Plus was good at, the 6 Pro Solar did better. The user interface has been improved, widgets look better and menus are slightly more intuitive.
Hardware improved. The watch runs more smoothly. Connectivity with ANT+ and Bluetooth devices remains rock solid. Heart rate broadcast over ANT+ works great too.
Flat watch glass. The 5 Plus was curved which made it a nightmare for screen protectors. The 6 Pro Solar is not and I have duly put on a tempered glass screen protector to avoid another diamond disaster. The screen protector can be seen in all the photos here.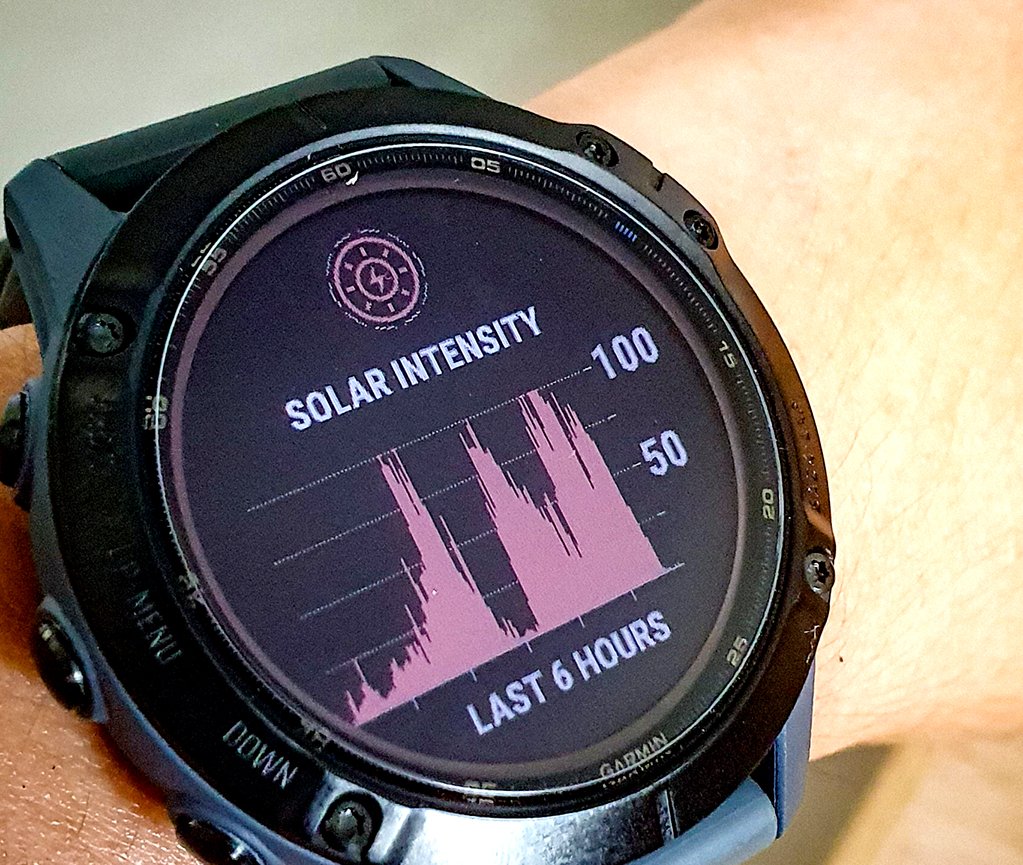 The Bad
Solar. Frankly it is a gimmick. The solar panels on the 6 Pro Solar are too small to make a significant difference unlike Garmin's Instinct series. Even when I hit 100% solar intensity on morning rides, it does not aid battery life significantly. You are looking at single digit percentages over a few hours. Solar also does not work well in Singapore because the weather is almost always slightly cloudy.
The Strange
Mysterious technical glitch. I will not pin this on Garmin. I had significant heart rate dropouts on my first two 6 Pro Solar units. My first unit worked well for months before it just failed to pick up my heart rate – the optical sensors went off even though they were set to turn on. It seemed like the sensors did not know that the watch was on my wrist. I got it replaced and the second unit exhibited the same issue on the first day. My wife tested the watch and the watch again displayed the same issue. But when I brought it to the distributor, the service representative tested it personally for three full days and performance was flawless. I was baffled. Garmin took my watch in and requested for data from my Garmin account. There was nothing wrong with my account. It has been a few months and Garmin has yet to be able to diagnose the issue. Garmin's Singapore distributor – Convergent, and its service rep – Hau provided sterling customer service. They loaned me a Fenix 6 until a new batch of 6 Pro Solars came in and then replaced it. Hau was prompt and communicated well – easily the best service representative I had the pleasure of dealing with. My replacement (third unit) works flawlessly now. It is a bit of a mystery what the issue was but Garmin, Convergent and Hau handled the matter really well.
I would still recommend this watch. My mysterious technical glitch is quite obscure and no one else has reported this issue. It is overall a very well made feature packed watch. It is expensive but you get what you pay for. My only qualm is that the solar feature does not really work well. But the difference in price between the solar and non-solar variant is quite insignificant, so there is not much savings to be made to go for the non-solar variant. I bought my 6 Pro Solar from Advance Lap as they were offering discounts via word of mouth.